Virginia Governor Debate - 10/09/2017
Published on Oct. 09, 2017
Poll: 2017 VA State Election - 

Governor
Virginia Governor Debate - 9/19/2017
Published on Sep 19, 2017

WAVY News 10 Sept. 19, 2017










---
Virginia Gubernatorial Debate - 7/22/2017
Poll: 2017 VA State Election - 

Governor
Poll: 2017 VA State Election - 
Lt. Governor
---
2017 VA State Election - C
ampaign Contributions
---
Virginia's Extreme Left Ticket
Comments:
(5/17/2017 @Joanne)
Billionaire George Soros and his family have given more than a quarter of a million dollars to Perriello's campaign.  -  Virginia的选举不是应该Virginia人民自己做主吗
? 前段时间Georgia的special election民主党候选人大约超过90%的捐款来自于外州.
不是不能接收外州捐款,但90%来自于外州,我理解不了。
如果总统候选人90%竞选资金来自于其他国家,会怎样?
Virginia 民主党担任州长的这几年,business friendliness rating下降了十名,承担后果的是Virginia residents,不是那些获利于全球化的大资本大集团。
---
Who is Funding Democrat Candidates for VA Governor?
Last night, data came out on who is funding Democrat candidates for governor and the revelations are SHOCKING!


George Soros and his liberal allies have donated over $350,000 in an attempt to buy the governor's mansion and they are just getting started!
What would a liberal New York banker want?


Republican Party of Virginia
RPV · The Richard D Obenshain Center 115 E Grace Street, Richmond, VA 23219, United States
The data is from:
vpap.org - 
Your window into Virginia politics
The Virginia Public Access Project, Inc.
The nonprofit Virginia Public Access Project connects Virginians to nonpartisan information about Virginia politics in easily understood ways.
New 

Virginia Lieutenant Governor Ralph Northam (Candidate - VA Governor Election of 2017) Endorses Driver's Licenses For Illegal Immigrants
Comments:
维州再让民主党搞四年就危险了。这次州长选举,
维州的选民们要出来积极投票。
维州这次变蓝,与现任的民主党州长关系很大。
这次维州州长选举对维州意义重大,
也是今年全美仅有的两个州长选举之一,关乎全局。维州不能再蓝(
烂)下去了。维州的business friendliness 排名从四年前的第一落到了30几名。
维州需要一个能干的能够团结各派的共和党州长振兴经济,
维护安全,减少行政干预和滥用职权。
6月份初选之后,无论以前支持哪个候选人,
大家要团结起来支持共和党的州长提名人, 让维州变红.
"
The
Virginia gubernatorial election of 2017
will take place on November 7, 2017. Primaries will take place on June 13, 2017. The incumbent Governor,
Democrat
Terry McAuliffe
, is not eligible to run for re-election due to
term limits
established by the
Virginia Constitution
.
Virginia
is the only state that prohibits its Governor from serving consecutive terms.
The primary elections will take place on June 13, 2017. Virginia utilizes a semi-closed primary, in which registered party members are only allowed to vote in their party's primary but unaffiliated voters may participate in any one primary."
---
"Terry McAuliffe's chosen successor, Lt. Governor Ralph Northam, has come out in favor of giving driver's licenses to illegal immigrants." 
"This isn't the first time that Ralph has chosen to sell out Virginia, he also voted to give in-state tuition to illegal immigrants in 2013! Is this Ralph's vision for the Virginia Way? What happened to putting Virginians first?" said 
John Whitbeck, Chairman, 
Republican Party of Virginia
---
Immigration roils Virginia governor's race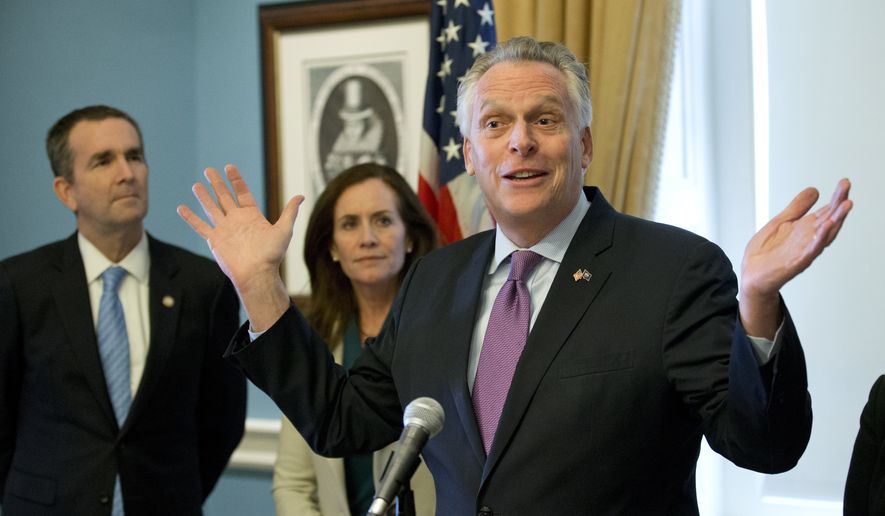 Virginia Gov. Terry McAuliffe, right, gestures during a news conference as his wife, Dorothy and Lt. Gov. Ralph Northam, left, listen at the Capitol in Richmond, Va., Tuesday, Jan. 10, 2017.
Virginia Lt. Gov. Ralph Northam's pledge this week to support driver's licenses for illegal immigrants has thrust the issue of immigration to the forefront of the state's 2017 gubernatorial race — establishing a dividing line between the candidates in the contest more than nine months out from Election Day.
Prince William County Board of Supervisors Chairman Corey Stewart, a Republican, has moved in the opposite direction, slamming the Democrat on the issue and rolling it into an attack against Ed Gillespie, calling on his top rival in the Republican primary race to come out against Mr. Northam's "blatant disregard for the law."
"We could easily see establishment darling Ed Gillespie engaging in the same dangerous behavior and putting the lives of Virginians at risk," Mr. Stewart said in a statement. "Even more dangerous than a liberal Democrat is a Republican who would give us the same policies Northam would if he were Governor.
"Republicans have sold out Americans for far too long," he said.
The attack followed the release of a Mason-Dixon poll Friday that showed Mr. Gillespie outpacing Mr. Stewart in head-to-head match-ups with the two Democratic candidates — Mr. Northam and former Rep. Tom Perriello.
For his part, Mr. Gillespie's campaign website does not zero in on the issue of immigration, but the former chairman of the Republican National Committee has previously supported a pathway to legal status — not citizenship — for non-criminal illegal immigrants as part of a broader package of federal laws that would also focus on beefing up border security.
Mr. Stewart, meanwhile, made a name for himself through his efforts to crackdown on illegal immigration, and is vowing on his campaign website to continue that fight.
He also is hoping to tap into the populist wave that Donald Trump rode to victory in the 2016 presidential race — in part by painting Mr. Gillespie as "weak" on immigration and as the ultimate establishment Republican.
The issue of driver's licenses surfaced Thursday when Mr. Northam was asked where he stood on a proposal to grant temporary driver's licenses to people who can't receive a permanent one because of their immigration status.
"We need to make sure that we have immigration reform for this county, we make sure that we have a pathway to citizenship in the Commonwealth of Virginia, and we need to make sure that people have access to driver's licenses," he said.
A total of 12 states — including California, Colorado and Maryland — and the District of Columbia allow illegal immigrants to obtain driver's licenses, according to a breakdown of state laws from the National Conference of State Legislatures.
State Sen. Frank Wagner and businessman Denver Riggleman are also running in the GOP gubernatorial primary.
The Mason-Dixon poll released Friday showed Mr. Gillespie leading Mr. Northam by 3 percentage points and Mr. Perriello by 9 percentage points.
Mr. Northam, meanwhile, leads Mr. Stewart by 8 percentage points and Mr. Perriello up by 2 percentage points.
"This is the second straight public poll to show that Ed Gillespie is the best candidate to unify the Republican Party in June and the Commonwealth in November," said Gillespie Campaign Manager Chris Leavitt. "Ed's positive vision, commitment to putting forward substantive policies, and campaign to engage all Virginians is resonating."
Source: http://www.washingtontimes.com/news/2017/jan/13/immigration-roils-virginia-governors-race/?utm_source=RSS_Feed&utm_medium=RSS
---