After filing its legal paperwork in Delaware two weeks before Virginia's gubernatorial primaries, Virginians for a Better Future quickly got to work promoting its idea of social welfare.
On its founding document, filed in a state with famously relaxed incorporation laws that serve as a magnet for shell companies, the tax-exempt nonprofit described its mission as "supporting public policies that promote the ability of Virginians to prosper and thrive," particularly in health care, education and employment.
In practice, that meant launching a $184,000 advertising campaign to support Lt. Gov. Ralph Northam's bid for the Democratic nomination for governor and attack Northam's primary opponent, former congressman Tom Perriello.
Backed by virtually every Virginia Democrat in state and federal office, Northam defeated Perriello by almost 12 percentage points, a surprisingly wide margin that made the last-minute attack ads seem almost moot.
With both Democratic campaigns spending millions on TV advertising, no one has suggested the Virginians for a Better Future ads — which painted Perriello as a phony progressive who couldn't be trusted on abortion rights — tipped the outcome.
Perriello called the ad campaign "the kind of thing that correctly disgusts people about politics," but he seemed to quickly move on from it after the primary and said he'll fully support Northam.
But with Perriello running an outsider, anti-corporate campaign that put him at odds with the Democratic establishment and business interests behind a pair of natural-gas pipelines Perriello opposed, the ads raised the question of who exactly spent a sizable amount of money on negative digital ads, mailers and robocalls despite a public rebuke from Northam.
Because the group is organized in a way that allows maximum secrecy, the identity of the donor or donors behind the ad campaign might never be disclosed.
"We're trying to keep a very low profile on this," Michael McShane, a little-known Democratic consultant from the Charlottesville area who serves as the group's only public face, said in a brief interview last month.
McShane, who signed his name on official records as the group's treasurer and incorporator, abruptly ended the phone call after being asked whether the group would disclose its donors. In follow-up messages, he said the organization has filed all paperwork required by the state.
The limited paper trail that exists, made up mainly of a series of independent spending reports filed with the state Department of Elections, points to a larger network of activity beyond McShane's Keswick address.
Several reports had markings showing they were faxed from the D.C. office of heavyweight law firm Skadden, Arps, Slate, Meagher & Flom. Another came from a Chicago area code with the initials "SASMF." A report faxed June 10 had a cover sheet from an even more mysterious locale: a UPS Store in a strip mall outside Boston. Skadden Arps did not respond to a request for comment.
NARAL Pro-Choice Virginia, an abortion-rights group that backed Northam, has denied involvement in the ad campaign, as has Dominion Energy, the politically potent utility Perriello crossed with his anti-pipeline stance and calls to reduce the influence of energy monopolies.
Because the organization is incorporated as a social welfare group, or 501(c)(4), with a larger advocacy mission beyond the governor's race, Virginians for a Better Future is exempt from the campaign finance disclosure rules that apply to candidates and political action committees.
The murkiness surrounding 501(c)(4) groups was a key element of the controversy regarding the U.S. Supreme Court's Citizens United decision, which allowed corporations and nonprofits to freely spend on political communications.
The gray area between social advocacy and politics was also at the center of the 2013 IRS scandal over tea party groups being targeted for extra scrutiny.
Other states have taken steps to close reporting loopholes for 501(c)(4)s, but a Republican-sponsored bill to force social welfare groups to disclose their donors failed this year in the Virginia General Assembly.
In April, Northam called for legislation to fix the "dark money" issue, pointing to a 2015 law passed in Montana that requires all groups to disclose their funding sources regardless of tax status if they spend money to try to sway an election within 60 days of the start of voting.
Sen. William R. DeSteph Jr., R-Virginia Beach, said he sponsored the 501(c)(4) bill after seeing secretive spending in Virginia Beach's light rail referendum last year, but saw that it had no chance of passing because Republicans and Democrats alike are "tied to things like this."
The National Rifle Association is organized as a 501(c)(4), as is the political advocacy arm of Planned Parenthood.
"I had a bunch of folks come out and say you don't realize what you're doing," DeSteph said. "I said yeah actually I do. That's why I'm still pushing to do it."
State elections officials did not answer repeated inquiries about whether Virginians for a Better Future will have to disclose its donors, but confirmed that the group has not filed a statement of organization, an identifying document required of any PAC that expects to spend more than $200 to influence a state election.
The department also did not respond to questions about whether the state has any role or policies related to reviewing the validity of groups spending in Virginia elections while claiming 501(c)(4) status. McShane insisted the group is a 501(c)(4), not a PAC.
The 501(c)(4) category allows groups to promote their views on civic issues and engage in some political advocacy, as long as influencing elections and running ads for or against named candidates is not the organization's "primary activity."
Perriello also benefited from the secrecy surrounding 501(c)(4)s. He received $380,000 in contributions from the New York-based Avaaz Foundation, an international advocacy group he co-founded. Avaaz also does not have to reveal the source of the money it gave to Perriello, though it clearly has a broader focus beyond intervening in Virginia elections.
If Virginians for a Better Future has plans for advocacy beyond the Democratic primary, they're hard to find.
The group's austere Facebook page consists only of links to pro-Northam content, all posted within a 15-minute span on June 2. The page has been idle ever since. Thegroup's website features more pro-Northam links, a digital video ad and a link to a state elections website that helps voters find their polling place.
The incorporation paperwork in Delaware was dated May 31. The first of four independent expenditure reports was filed with Virginia officials on June 4, and the reports continued to come in until the day before the June 13 primary.
The spending reports do not reveal where the group's money came from, but they show where it went. The organization paid three political advertising firms to design and execute the campaign, and each company has ties to Virginia's Democratic establishment.
Moxie Media, a Seattle-based company that received roughly $60,000 for the direct mail campaign, employs Brian Zuzenak, a former top aide to Gov. Terry McAuliffe who recently directed the governor's PAC, Common Good VA, and served as Virginia director for Hillary Clinton's presidential campaign last year.
Zuzenak, who was paid $13,500 by McAuliffe's PAC in December, has not responded to requests for comment. The PAC denied involvement.
"That type of effort had no place in a Democratic primary between two fantastic candidates," said Common Good VA spokeswoman Crystal Carson. "We had no knowledge of or coordination with the group."
SB Digital, a D.C. firm identified in the spending reports as Switchboard Communications, received around $100,000 for the digital ad component. The company employs Sam Sterling, a former aide to Senate Minority Leader Richard L. Saslaw, D-Fairfax, who vigorously supported Northam and bashed Perriello during the primary.
Saslaw has also denied any involvement in the ad campaign and said he does not know who's behind Virginians for a Better Future.
The Sexton Group, a communications firm based in Chicago, was paid roughly $25,000 to handle the robocalls. The company's website lists Eric Payne, a former Democratic Party of Virginia employee, as its data manager.
In an interview, Payne said he no longer works with the Sexton Group and was not involved in the calls.
On June 7, Northam sent an email to McShane asking Virginians for a Better Future to scrap its plans to go negative on Perriello, but that request seemed to have little impact.
The Perriello campaign suggested at the time that the Northam campaign could have done more to stop the ads, but the Northam campaign said its hands were tied due to rules prohibiting coordination between campaigns and outside groups.
DeSteph said he will continue to pursue a state-level fix. Ultimately, he said, it's up to the IRS or federal lawmakers to clarify what has become "another way to hide money."
"That's not what a 501(c)(4) is supposed to be for," DeSteph said.
---
Poll: 2017 VA State Election - 
Lt. Governor
Poll: 2017 VA State Election - Attorney General 
---
2017 VA State Election - C
ampaign Contributions
---
Virginia's Extreme Left Ticket
---
The TV spending in the Virginia's governor's race right now

From: Virginia TV Tracking
Date: 

Tuesday, May 17, 2017


Subject: TV Spending Update

Ed --

Here's a current breakdown of the TV spending in the Virginia's governor's race right now:
Lieutenant Governor Ralph Northam is flooding the airwaves thanks to lots of cash from his Clinton-McAuliffe allies. And we're seeing Congressman Tom Perriello ramp up his spending following the endorsements of Bernie Sanders and Elizabeth Warren.

We also know that liberal billionaire George Soros and his family have given more than a quarter of a million dollars to Perriello's campaign.

We'll continue to track the spending, but as you can see, our campaign is being outspent by the Democrats. We need to ensure that more voters know about the Republican primary on 

June 13

, and that you're the right candidate to face whomever the Democrats nominate.

We should ask our supporters to make an immediate, online donation so we can increase our TV budget.
Comments:
(5/17/2017 @Joanne)
Billionaire George Soros and his family have given more than a quarter of a million dollars to Perriello's campaign.  -  Virginia的选举不是应该Virginia人民自己做主吗
? 前段时间Georgia的special election民主党候选人大约超过90%的捐款来自于外州.
不是不能接收外州捐款,但90%来自于外州,我理解不了。
如果总统候选人90%竞选资金来自于其他国家,会怎样?
Virginia 民主党担任州长的这几年,business friendliness rating下降了十名,承担后果的是Virginia residents,不是那些获利于全球化的大资本大集团。
---
Who is Funding Democrat Candidates for VA Governor?
Last night, data came out on who is funding Democrat candidates for governor and the revelations are SHOCKING!


George Soros and his liberal allies have donated over $350,000 in an attempt to buy the governor's mansion and they are just getting started!
What would a liberal New York banker want?


Republican Party of Virginia
RPV · The Richard D Obenshain Center 115 E Grace Street, Richmond, VA 23219, United States
The data is from:
vpap.org - 
Your window into Virginia politics
The Virginia Public Access Project, Inc.
The nonprofit Virginia Public Access Project connects Virginians to nonpartisan information about Virginia politics in easily understood ways.
---
VA: VOTER FRAUD ALERT!!
From: 
Republican Party of Virginia
<info@rpv.org>
Date: Fri, Apr 14, 2017 at 3:36 PM
Subject: VOTER FRAUD ALERT!!
We have breaking news!!! 
In a special election in Prince William County, Manassas City, and Manassas Park City local Democrat Party activists are handing out illegal ballots with intent to fool voters!
The "sample" ballots have an official seal on them with a disclaimer from the local electoral board and a marking for the Democrat candidate. The problem is all three of these issues run directly counter to our state's election law!
Even more ironic, the special election is for the Clerk of Court position which oversees the areas courts. Local Democrat Party activists are breaking election laws in an attempt to insert someone to oversee the court system!
We will not let the Democrats get away with this travesty! RPV has notified the authorities and is fully prepared to take legal action to ensure this election is not rigged against our candidate.
Make sure to let the local Dem candidate know that we are on to her supporters illegal dirty tricks.Call her campaign at 571-529-9379!
Thank you for helping ensure that our elections are free from corruption.
Sincerely,
John Findlay
Executive Director
Republican Party of Virginia
RPV · The Richard D Obenshain Center, 115 E Grace Street, Richmond, VA 23219,
---
Business owners opposed Lansing's sanctuary city status
Lansing, Michigan rescinds 'sanctuary' status after criticism from businesses
---
New 

Virginia Lieutenant Governor Ralph Northam (Candidate - VA Governor Election of 2017) Endorses Driver's Licenses For Illegal Immigrants
Comments:
维州再让民主党搞四年就危险了。这次州长选举,
维州的选民们要出来积极投票。
维州这次变蓝,与现任的民主党州长关系很大。
这次维州州长选举对维州意义重大,
也是今年全美仅有的两个州长选举之一,关乎全局。维州不能再蓝(
烂)下去了。维州的business friendliness 排名从四年前的第一落到了30几名。
维州需要一个能干的能够团结各派的共和党州长振兴经济,
维护安全,减少行政干预和滥用职权。
6月份初选之后,无论以前支持哪个候选人,
大家要团结起来支持共和党的州长提名人, 让维州变红.
"
The
Virginia gubernatorial election of 2017
will take place on November 7, 2017. Primaries will take place on June 13, 2017. The incumbent Governor,
Democrat
Terry McAuliffe
, is not eligible to run for re-election due to
term limits
established by the
Virginia Constitution
.
Virginia
is the only state that prohibits its Governor from serving consecutive terms.
The primary elections will take place on June 13, 2017. Virginia utilizes a semi-closed primary, in which registered party members are only allowed to vote in their party's primary but unaffiliated voters may participate in any one primary."
---
"Terry McAuliffe's chosen successor, Lt. Governor Ralph Northam, has come out in favor of giving driver's licenses to illegal immigrants." 
"This isn't the first time that Ralph has chosen to sell out Virginia, he also voted to give in-state tuition to illegal immigrants in 2013! Is this Ralph's vision for the Virginia Way? What happened to putting Virginians first?" said 
John Whitbeck, Chairman, 
Republican Party of Virginia
---
Immigration roils Virginia governor's race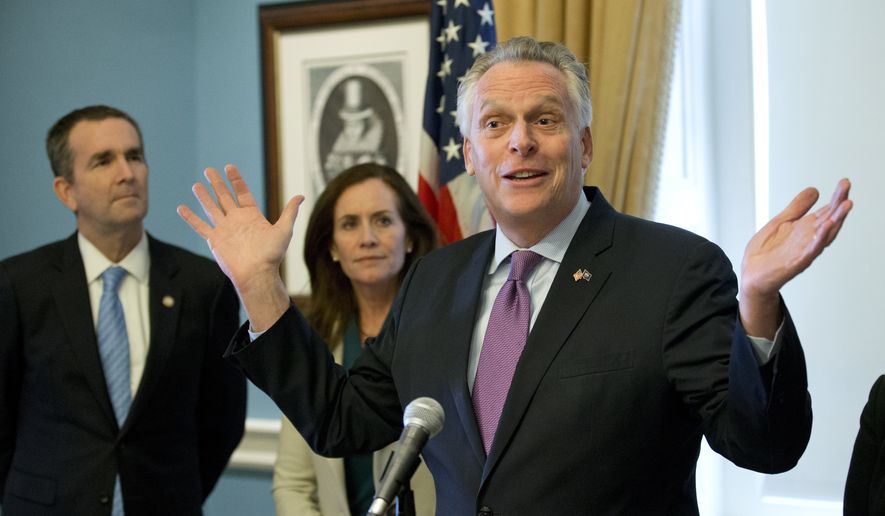 Virginia Gov. Terry McAuliffe, right, gestures during a news conference as his wife, Dorothy and Lt. Gov. Ralph Northam, left, listen at the Capitol in Richmond, Va., Tuesday, Jan. 10, 2017.
Virginia Lt. Gov. Ralph Northam's pledge this week to support driver's licenses for illegal immigrants has thrust the issue of immigration to the forefront of the state's 2017 gubernatorial race — establishing a dividing line between the candidates in the contest more than nine months out from Election Day.
Prince William County Board of Supervisors Chairman Corey Stewart, a Republican, has moved in the opposite direction, slamming the Democrat on the issue and rolling it into an attack against Ed Gillespie, calling on his top rival in the Republican primary race to come out against Mr. Northam's "blatant disregard for the law."
"We could easily see establishment darling Ed Gillespie engaging in the same dangerous behavior and putting the lives of Virginians at risk," Mr. Stewart said in a statement. "Even more dangerous than a liberal Democrat is a Republican who would give us the same policies Northam would if he were Governor.
"Republicans have sold out Americans for far too long," he said.
The attack followed the release of a Mason-Dixon poll Friday that showed Mr. Gillespie outpacing Mr. Stewart in head-to-head match-ups with the two Democratic candidates — Mr. Northam and former Rep. Tom Perriello.
For his part, Mr. Gillespie's campaign website does not zero in on the issue of immigration, but the former chairman of the Republican National Committee has previously supported a pathway to legal status — not citizenship — for non-criminal illegal immigrants as part of a broader package of federal laws that would also focus on beefing up border security.
Mr. Stewart, meanwhile, made a name for himself through his efforts to crackdown on illegal immigration, and is vowing on his campaign website to continue that fight.
He also is hoping to tap into the populist wave that Donald Trump rode to victory in the 2016 presidential race — in part by painting Mr. Gillespie as "weak" on immigration and as the ultimate establishment Republican.
The issue of driver's licenses surfaced Thursday when Mr. Northam was asked where he stood on a proposal to grant temporary driver's licenses to people who can't receive a permanent one because of their immigration status.
"We need to make sure that we have immigration reform for this county, we make sure that we have a pathway to citizenship in the Commonwealth of Virginia, and we need to make sure that people have access to driver's licenses," he said.
A total of 12 states — including California, Colorado and Maryland — and the District of Columbia allow illegal immigrants to obtain driver's licenses, according to a breakdown of state laws from the National Conference of State Legislatures.
State Sen. Frank Wagner and businessman Denver Riggleman are also running in the GOP gubernatorial primary.
The Mason-Dixon poll released Friday showed Mr. Gillespie leading Mr. Northam by 3 percentage points and Mr. Perriello by 9 percentage points.
Mr. Northam, meanwhile, leads Mr. Stewart by 8 percentage points and Mr. Perriello up by 2 percentage points.
"This is the second straight public poll to show that Ed Gillespie is the best candidate to unify the Republican Party in June and the Commonwealth in November," said Gillespie Campaign Manager Chris Leavitt. "Ed's positive vision, commitment to putting forward substantive policies, and campaign to engage all Virginians is resonating."
Source: http://www.washingtontimes.com/news/2017/jan/13/immigration-roils-virginia-governors-race/?utm_source=RSS_Feed&utm_medium=RSS
---